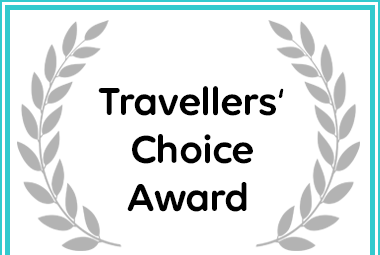 From exceptional customer reviews
Dew Cottage
Received an Afristay Travellers' Choice Award.
Some of our guests have left comments. See below:
ďAs always this cottage has a magically peaceful quality. The owners rub off on it I`m sure. It just gets better each time we visit and the dogs write good things about it on Facebook on their return as well!"
(Lindsay Ross, visited Feb 2016)
From the geese honking in the morning, to the myriad bird species tweeting in the afternoon, Dew Cottage is an auditory feast that drives all urban pressure from the soul, as does the tinkle of the crystal stream and the hiss of the braai fire in the evening. The hikes and the solitude of this getaway, and the unbelievable hospitality of Doreen, make this a more-than-once getaway, and we will be back for the third time, sooner rather than later. Bravissimo, Dew Cottage, who needs tranquilisers anyway! You rock."
(David Raper, visited January 2015)
"If I could give Dew Cottage a rating of 6 out of 5 stars, I would. We spent the most magical weekend as Doreenís guests in her lovely cottage and would recommend it to any traveler. This beautiful cottage, nestled in a picturesque valley, is the perfect cure when you are feeling tired and stressed. I felt recharged and revived after just a few minutes in the hammock, gazing at the green valley and the luscious garden. Itís a little piece of heaven on earth and yes, Doreenís muffins are every bit as incredible as all the other reviews have it!"
(Ciska Cockrell, visited January 2015)
We have come back to our city lives rested and with our minds stilled after 5 very pleasant days spent at Dew Cottage and hiking and exploring the Montagu surrounds.Doreen is a welcoming and generous host. The cottage is well equipped, and we enjoyed being able to have a fire in the evenings. The stoep is the gem of Dew Cottage. We spent much time there, reading and watching the many birds who visit.Thanks to Doreen and Tarry.
We really value your feedback. If you have any comments please be so kind as to drop us a line.
See more at:
Vredenshoogte Farm